Entertainment Interview
We know a lot of you have been waiting for Central Intelligence to come out. And we can't blame you! Kevin Hart and Dwayne 'The Rock' Johnson in the same movie? Count us in! Both Dwayne Johnson and Kevin Hart gave us a little insight about the movie. Here's what they had to say about their new movie, Central Intelligence.
Kevin Hart (Calvin Joyner) – "Calvin Joyner is your working man that has become complacent with his life. You're looking at a guy, who at one point was THE guy…in high school – class president, most popular kid in class, you named it he did it. As an adult, things kind of went left somewhere along the lines, and he found himself in the nine-to-five job pushing papers."
Dwayne 'The Rock' Johnson (Bob Stone) –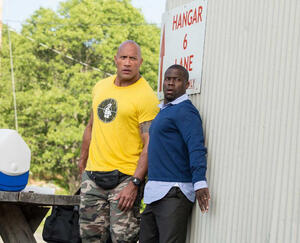 "When the script came in, and was on my desk, it was a good script. The idea was really good. What really caught my attention was the idea of taking this premise of taking a model that had worked in the past of a two-hander and flipping it on it's ear. And putting me in the comedy role if you will, and putting Kevin Hart who is the world's most successful comedian on fire and putting him in the straight man's world. But just in that model. And when I say that, the comedy cross-intersects along the way. It was a combination of a really good script and putting me in a scenario where I had to stretch and work some different muscles. And putting Kevin in a role where he had to stretch and work some different muscles. And then somewhere we meet in the middle. So when you have that idea and that concept, that was really appealing to me."
Kevin Hart and Dwayne Johnson did a great job hyping up this movie. Did you see them making fun of each other on Instagram? Hilarious! We're pretty sure that's how the movie is going to be.
Let us know what you think of Kevin Hart and Dwayne Johnson starring in Central Intelligence in the comments below or join the conversation on Twitter!